2005.09.28 Wednesday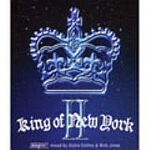 Amazonで詳しく見る
もしかしたら世界で一番有名かもしれないハウスレーベル、King Street Sounds。ハウス好きじゃなくてもその名は聞いた事があるだろうそのレーベルの設立者は、なんとヒサイシオカ氏日本人なのである。いや、まさか本場USでそんなレーベルを日本人が作ったなんてほんと凄い事だと思います。でもそれは彼の嗅覚の成せる業、アンダーグラウンドなダンスミュージックから時代の流れに沿った最先端のハウスまで、良質な音楽を提供する姿勢があるからこそなのでしょう。そんな彼の下には数多くの才能あるアーティストが集結し、数多くの天才がKSSに楽曲を提供しています。そしてヒサ氏はクラシックなハウスだけに止まらずより自由な楽曲を送り出す為に、Nite Groovesと言うレーベルも設立し当然そちらも大成功。そしてKSS設立12週年を記念したMIXCDがこれです!ミキサーには、Andre Collins & Nick Jonesだそうで僕も名前くらいは聞いた事があるアンダーグラウンドながらも、ヒサ氏が信頼をして送り出す位の素晴らしいDJです。DISC1のAndre Collinsはアッパーにどす黒く、がつんと踊れるピークタイム仕様。しかしソウルたぎるそのプレイは、聴く者の心を熱くさせるエモーションがあります。またDISC2担当のNick Jonesは、ラテンハウスやジャジーハウスを多様しスウィートかつリラックスしたプレイを見せます。いやいや、しかし一つのレーベルだけでこんなに素晴らしい楽曲が揃うなんて、本当に凄い事じゃないかな?KSSはこれからも時代をリードして、新たなる才能を発掘してくれると確信しました。EP中心のダンスシーンに於いて、こういったレーベルサンプラー的MIXCDは大層嬉しいのですが、レーベルサンプラー以上の質を伴っています。
試聴
Check
"Andre Collins"
&
"Nick Jones"
Tracklistは続きで。
DISC 1
1 Magical Life(Main Mix)/Mood II Swing feat.Lauren
2 On My Way/Kerri Chandler
3 Most Precious Love(Copyright Spiritual Club Mix & Copyright ″So Spiritual Dub)/Blaze presents Underground Dance Artists United For Life feat.Barbara Tucker
4 Mood II Swing/Nafara
5 Brighter Days(Mouse T's Fierce Vocal)/BIG MOSES feat.Kenny Bobien
6 Come Together(What Is Hous?)-Club Mix/DJ Pierre feat.Felicia
7 Funk It!(Gonna Getcha)/Ralphi Rosario
8 Bar A Thym/Kerri "Kaoz 6:23"Chandler
9 You've Let The Love Slip Away/Benji Candelario & Arnold Javis
10 De Ja Vu(Roots Main Mix)/DJ Romain & Jon Cutler feat.Jeannie Hopper
11 Amephytrion/Tiger Stripes
12 Shake(DHJ Main Mix)/David Harness Project
DISC 2
1 Rain(Rainapella)/Stephanie Cooke
2 Kiss Kiss Kiss(Alternate Mix Re-Edit)/Ananda Project feat.Heather Johnson
3 Here With My Best Friend(Dance Ritual Mix)/Stephanie Cooke
4 The More You Want(Joe's Dance Tracks Mix)/Groove Box
5 Inner City(East Side Classic)/Lenny Fontana presents The East Side Movement
6 The Greatest Thing(Matty's Soulflower Mix)/Matthias "Matty"Heilbronn presents The II Deep All Stars feat.James Preston Jr.
7 Grass Cutter/Kerri "Kaoz 6:23"Chandler
8 Show Me(Def Club Mix)/Urban Soul
9 Mongobonix(From Beneath The Earth's Crust)/Harry "Choo Choo"Romero
10 Shine(Shelter Club Mix)/Blaze & Palmer Brown
11 New Hope(Main Pass)/Agora Rhythm
12 Be Yourself(Shrine Vocal Mix)/Blaze presents Underground Dance Artists United For Life feat.Joi Cardwell
13 Suffles H(King Street Club Mix)/Mondo Grosso