2006.05.13 Saturday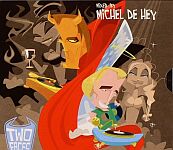 Amazonで詳しく見る
微妙に名前を聴く位で殆ど詳細の分からないMichel De Hey。なんでもオランダテクノシーンでは最も有名なアーティストだそうで、活動歴も20年以上を誇るベテラン中のベテランだそうです。WIRE04にも出演していたそうで実力は保証されていそうだし、Secret CinemaやJoris Voornとも共作をしているのでそこら辺の音が好きな人は注目でしょうか。Michel De Heyの事を知らないのにこのMIXCDを買ったのは、Vince WatsonやAril Brikhaらの自分の好きなアーティストの曲が使われていたからなんですがね。実際購入したのは正解で、「Two Faces」のタイトル通り内容の異なる2枚組で充実しておりました。
取り分け気に入ったのはCD1で、最近流行のNathan FakeやAlex SmokeなどBorder Communityに通ずる覚醒的プログ系の曲が中心にまとめられています。終盤近くまで上げる事もなく、じわりじわりと感覚が麻痺していく様なドラッギーかつギラついた流れで終始テンポを保ちます。激しさで一気に持っていくより、やっぱりディープでミニマルな徐々に独特の世界観に引き込むこうゆうスタイルが近年の流行なんですね(自分も以前程家ではハードなCDは聴いてないし…)。途中まではそんな感じでゆらりゆらりとしているのですが、終盤3曲で一気に豹変。自身の曲〜(Funk D' Void's Remix)〜Aril Brikhaと立て続けに透明感溢れるデトロイト系のトラックを連発し、覚醒的な雰囲気から目覚めた様にスタイリッシュでエモーショナルな雰囲気に変化します。特に「Camera(Funk D' Void Remix)」は幽玄なシンセサウンドが鳴り響き、このMIXCDの山場になっていると思います。まさかこんな意外な展開が待っているなんて、想像だに出来ませんが良い意味で裏切られました。
対してCD2の方は至って普通で、デケデケベースライン+ハードテクノです。ビキビキのベースラインは好きですが、ディスコっぽいデケデケはそんな好きでもないし、プレイ自体も終始ハードな感じで特に新鮮味はないかなと。あ、いや、まあハードテクノなら他にもっと良いDJがいると言うだけで、別に悪いと言う事ではないです。ただ至って普通の出来だなと言うだけです。それでもCD1の為だけでも、このMIXCDを買う価値は充分にあるので見つけたら即購入あれ。
試聴
Check
"Michel De Hey"
Tracklistは続きで。
Disc: 1
1. Nathan Fake ・The Sky Was Pink (Holden Remix)
2. John Tejada ・Mono On Mono
3. Secret Cinema ・See Myself (Joris Voorn Remix)
4. Vince Watson ・Pure Innersense
5. Kotter ・Welcome Back (Mayer Thomas Remix)
6. Infusion ・Better World (Wink Interpretation)
7. Lopazz ・Blood (Tiefschwarz Remix)
8. Trentemoler ・Beta Boy
9. Alex Smoke ・Chica Wappa
10. Dave Gahan ・Hidden Houses (Alexander Kowalski Remix)
11. Rex The Dog ・We Live In Daddy's Car
12. Michel De Hey ・Come 2 Me
13. Michel De Hey ・Camera (Funk D'void Remix)
14. Aril Brikha ・Prey For Peace
Disc: 2
1. Fischerspooner ・Just Let Go (Thin White Duke Remix)
2. Gabriel Ananda ・Heizkissen
3. Coming Soon ・Object
4. Leandro Gamez ・Body Shaker
5. Joel Mull ・Discotrip
6. Michel De Hey ・Oil And Vinegar
7. Kobbe ・Chromosphere
8. Secret Cinema ・Yakuza-J.
9. Hidden Rivals ・Cc Feedback
10. Sterac ・Completed
11. Double X ・Flashback
12. Eric Sneo ・Going On
13. Hardcell & Grindvik ・Square
14. Marco Bailey ・Speedy J (Rude Boy Remix)
15. Etienne De Crecy ・Fast Track