2006.07.11 Tuesday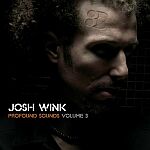 Amazonで詳しく見る(US盤)
Amazonで詳しく見る(UK盤)
自身が作るトラックは激ハイパーなアシッド作風が多く派手なのに、何故かJosh WinkのDJはかなり渋い。生で聴いた事がないから実際はどうかしらんけど、前作の「Profound Sounds Volume 2」
(過去レビュー)
も渋かったのに今作はより深く渋い。1枚目はクリックハウスから入ってきて、Winkまでもクリック熱にやられたのかと呆気に取られた。そこからはRichie Hawtin風のディープでウニョウニョなミニマルが続き、何故か中盤でLos Hermanosのラテンハウスが入る。しかし続くRadioheadのJosh Wink Remixでまたもディープな作風に戻り、最後まで淡々とミニマルな世界観が続きます。決して浮上する事はなく、地べたをずっと這いずり回るような重苦しさがあるね。2枚目は更にミニマルで多少ハードになったり、浮遊感のあるテックハウスを回したりするけれど、むしろ深く沈み込むダークな世界観に注目すべき。ハードミニマルの様に派手は展開はないけれど、一貫して暗黒の音に統一されたプレイには美学みたいな物を感じるね。クラブでもこんなプレイを本当にするのか疑問だけど、CDとしてリリースするなら家で聞く物だしこれはこれであり。テクノ系のDJプレイでここまで我慢してテンション上げないのも、ある意味珍しいかも。決してつまらないと言う意味では無くて、本当に彼のDJは素晴らしく激渋だよ。強いて言うならば今作はハウスグルーヴが強いので、今度はテクノ色が強いプレイを聴きたいな。
※Ministry Of Soundからは同内容で「Sessions」としてリリースされています。
試聴
Check
"Josh Wink"
Tracklistは続きで。
Disc1
1. Run Stop Restore "Corporal"
2. Donnacha Costello "Colorseries Blue B"
3. Anja Schneider & Sebo K "Rancho Relaxo"
4. Sten "Back Four"
5. Hardfloor "T2DAC" (Claro Intelecto remix)
6. Quinn & Benny Rodgrigues "7up"
7. Steve Bug "Summer Nights"
8. D5 "Floatation Tank"
9. Los Hermanos "Lines of Nazca"
10. Radiohead "Everything in its Right Place" (Josh Wink Remix)
11. DJ Skull "Don't Stop the Beat"
12. Wink "Higher State of Consciousness" (Eyes in The Circle of Life Remix by Mathew Jonson)
13. Mathew Johnson "Love Letter to the Enemy"
Disc2
1. DJ Yellow "Elusiv"
2. East Side Scientific "Nowhere"
3. Loco Dice "Jacuzzi Games"
4. John Tejada "Sucre"
5. Levon Vincent "Love Technique"
6. Hardfloor "Soulful Spirit of House" (Wink's Spirit of House Mix)
7. Guido Schneider "As Dry and I Can"
8. Octave One "Blackwater" (Alter Ego Vocal Mix)
9. Orb "Masterblaster"
10. Jasper "Uncertain"
11. DJ ESP "Column Weave"
12. Subspace "ElectroFluxx"
13. Steevio "Dusk" (Live)
14. Jeff Mills "Expanded"
15. Wink "Swirl"
16. Richie Inkle "Perspective"
17. Mateo Murphy "Shadows"