2007.03.20 Tuesday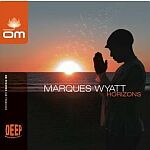 Amazonで詳しく見る
Marques Wyattと言うアーティストを全く知らないのですが、西海岸ハウスシーンをリードするOM Recordsからのリリースと言う事で中古で安く仕入れた本作。OM Recordsはサンフランシスコ発祥のレーベルなんで、自分のイメージとしては太陽が燦々と降り注ぐ陽気なビーチで、時にファンキーに時にドリーミーな顔を覗かせるハウスと言うイメージがあります。そして本作にはそんな面以外にも、更には心をぐっと掴むようなドラマチックで儚い面も見せつけるのでした。まずはジャケットに注目。"地平線"と言うタイトル通りのジャケットですが、この太陽が正に沈む瞬間の消えゆく美しさには涙が出そうになります。音楽的にはディープハウスと言う事になるのでしょうが、そこにはジャジーな渋い感覚やラテンのファンキーさ、またはトライバルの土着具合も有り、それらが自然と滑らかに繋がれております。そしてそこから生まれるのは、ジャケット通りのしんみりと心に染みこみ涙を誘うノスタルジア。大幅な振れ具合の無いある意味平坦なミックスではありますが、それが逆に徐々に感動をもたらす事に成功していると思います。陽気な夏と言うよりは、詫び寂びな秋のOM Recordsって感じですね。
試聴
Check
"Marques Wyatt"
Tracklistは続きで。
1.intense & voices of 6 ave - you gotta believe (vocal)
2.s.o.m. feat. barbara mendes - musica (my funked up mix)
3.kathy brown - never again (copyright classic mix)
4.mark grant feat. russoul - girl with u (dub)
5.walter jones - gc's theme
6.e-man - slangin (jon cutler mix)
7.los hermanos - quetzal
8.antonio ocasio - echu age
9.sicania soul - starlite (sicania soul vocal)
10.osunlade feat. maiya james - same thing?
11.ms keishag - sun will shine (mission control dub)
12.louie vega presents anane - nos vida (maw mix)